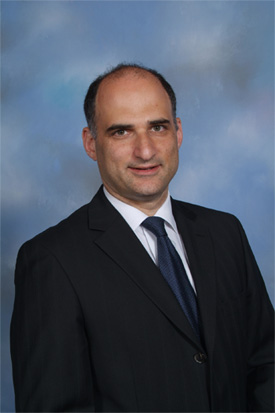 Training and Background
Dr Katz studied Medicine at Cambridge University (1985-1988) and University College London (1988-1991). He began training in Endocrinology in 1994 at St Bartholomew's Hospital. Dr Katz returned to University College London (UCL) for specialist registrar training from 1994-2001, working at UCL, The Royal Free and Whittington Hospitals. From 1996-1998, he undertook a 2-year research fellowship, culminating in an MD Thesis on "obesity and polycystic ovary syndrome". In 1999, Dr Katz worked as a registrar in Sydney, Australia. He began his career as a Consultant Endocrinologist in the UK in 2001.
Consultant Career
Dr Katz works as a Consultant Endocrinologist for the Royal Free London NHS Foundation Trust, based at Barnet Hospital. In 2009, Dr Katz was elected as a Fellow of the Royal College of Physicians (FRCP), an honour granted to consultants providing the highest standards of care. In 2019, Dr Katz was appointed as Regional Advisor for the Royal College of Physicians – this is an elected post with wider responsibilities supporting training, ensuring new consultant posts fulfil Royal College standards, appointing College Tutors and vetting FRCP applications.
Dr Katz has a busy NHS Endocrinology practice, seeing over 300 new patients and over 1000 follow-up patients each year. In addition, he looks after inpatients at Barnet Hospital with diabetes emergencies and acute endocrine disorders.
Private Clinics

The Spire Bushey Hospital on Fridays 2.30pm – 4.30 pm:
https://www.spirehealthcare.com/spire-bushey-hospital/find-us/spire-bushey-diagnostic-centre/

The Cavell Hospital in Enfield on Wednesdays 4pm – 6pm
http://www.bmihealthcare.co.uk/cavel
Which Hormone Imbalances does Dr Katz Treat?
Dr Katz has wide experience in managing many endocrinological disorders. The hormone imbalances he treats include, but are not limited to:
Overactive thyroid (thyrotoxicosis)
Underactive thyroid (hypothyroidism)
Thyroid enlargement / goitre
Polycystic ovary syndrome
Diabetes- Type 1, Type 2 diabetes and diabetes prevention
Pituitary disease (e.g.prolactinomas, pituitary tumours)
Testosterone deficiency
Addison's disease (and adrenal disorders)
Dr Katz has expertise in managing patients with thyroid disorders. The most frequently occurring thyroid disorders are an overactive thyroid (thyrotoxicosis) which is often a feature of Graves' Disease; an underactive thyroid (also known as Hypothyroidism or "Hashimoto's Thyroiditis"); and thyroid swellings ranging from a simple cyst to one or multiple thyroid nodules and/ or a goitre.
Dr Katz has subspecialty training in Reproductive Endocrinology, specifically helping patients with Polycystic Ovary syndrome, where symptoms can include spots or acne; facial / body hair growth; irregular periods or long gaps between periods.
Dr Katz also has expertise in the management of a wide range of hormone problems including Diabetes (Types 1 and 2), Prolactinomas, other pituitary disease; menopause; adrenal disorders and testosterone deficiency.
Dr Katz has over 20 years' experience as a Consultant Endocrinologist, diagnosing and treating the full range of endocrine disorders. Whether you have a newly diagnosed problem or are seeking a review of your treatment, he is well placed to advise and help.
Patients are often worried they have a "hormone imbalance" and seek specialist help. Dr Katz will listen to your symptoms and carry out whatever tests are needed, before recommending a treatment that is right for you.